Hello all, posting something related to IT (rather than information security) to discuss something I've found helpful regarding mouse acceleration in macOS.
I've been a Microsoft Windows and Linux user for a long time, but only recently made the dive into macOS in the last year or so. I am also an avid user of trackball mice and have been using a Logitech M570 for multiple years. However, I instantly noticed that the mouse acceleration in macOS is quite poor.
For a while, I had the fortune of using SmoothMouse, however it was confirmed to be unsupported as of macOS Sierra and further. Therefore, I had to find a solution, that's when I found CursorSense. Below are the settings I use for my Logitech M570 to get a smooth mouse acceleration similar to Linux and/or Windows: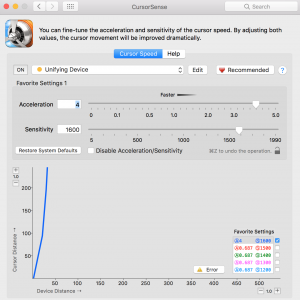 One thing to note. If you look at the list of devices offered when you use a Logitech mouse, it mat list a USB receiver and a Unifying Receiver:

If this is the case, then you need to uninstall the unifying software and reboot your Mac. Once you have done this, it should only show the following options and list USB Receiver with a green icon:
I'd recommend also installing SteerMouse with this software. Both are well worth the purchase.
That's for now, hope this helps someone!
-E